Services
Security & Building Management Service
Since our founding we have made it our mission to give "safety and security", especially to the central area of Kanagawa, providing security services through advanced systems using guards and the latest technology.
Our services consist of machine guarding & home security, manned guarding,traffic guading, and comprehensive building management.
Machine Guarding and Home Security
We will install alarm equipment at the desired location e.g. offices, factories, private homes, etc., and monitor the information sent by the equipment from our control room 24 hours a day, 365 days a year. When an abnormal situation occurs, security guards will rush to the scene and take the appropriate action.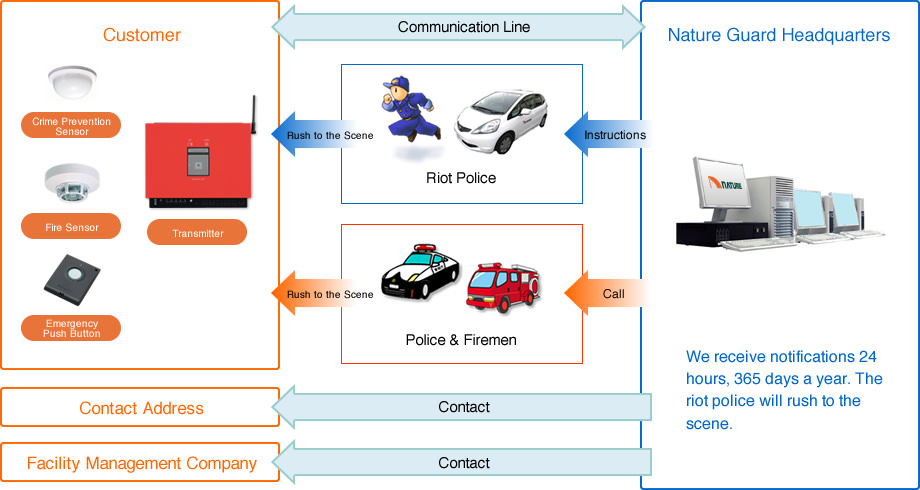 Security Areas
Ayase, Ebina, Zama, Yamato, Fujisawa, Samukawa, Atsugi, Yokohama (Naka-ku, Izumi-Ku, Seya-Ku)
※ Among the above areas are some we cannot support.
Manned Guarding
We station security guards at facilities for access control and patrolling, and use them together with our security systems, providing high security at low cost.
Traffic Guarding
At the site of civil engineering work or construction site, professionally trained guards support smooth traffic and accident prevention.
NATURE has many 2nd grades of Traffic Guarding Test certificated workers so we can suggest solution to the request of qualified personnel placement.
And we also can offer guarding services for such as crowds (ex: at events), parking sites, absent homes or offices, patrolling services.
Service Areas
Cities of Ayase, Yamato, Ebina, Fujisawa, Atsugi, Sagamihara, Machida,
Yokohama (Izumi-ku, Seya-ku, Asahi-ku, Midori-ku, Totsuka-ku, Hotogaya-ku, Nishi-ku, Naka-ku)
※About other areas, please feel free to consult.
Comprehensive Building Management
Cleaning business
Daily cleaning (common households, etc.)
Periodic cleaning (floor and glass surfaces, pest control)
Building management services
Water tank maintenance, inspection and cleaning
Air conditioning and hot/cold water machine maintenance and inspection
Disaster prevention equipment maintenance and inspection
Tank high pressure cleaning
Renovations