Introduction Examples
Example for a Educational Institution with our system
Introduction suggestions
Security measures for an institution to which the public has access
Take a look at this example of a system suited for educational institutions such as campuses.
We mainly build surveillance camera and access control systems focusing on identity theft prevention in areas such as libraries, PC rooms, archives, laboratories, or chemical storages. For open facilities where an unspecified number of people can access the site, including outsiders dressed as students, we recommend security with an access control system that controls the access to private room where important goods are kept/installed.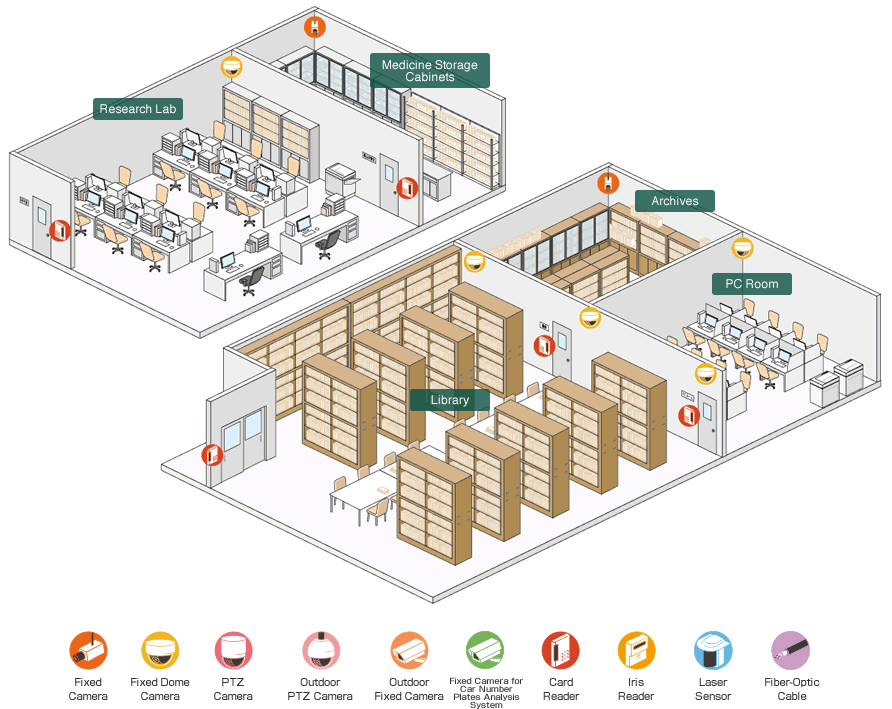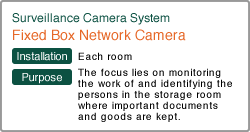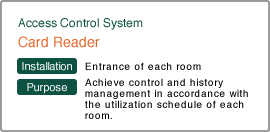 Why We Chose These Introduction Products and Systems
Access Control System
Card Reader
Card Reader with Touch Panel Scramble Keypad
GG-2
GG-2
This is a basic ID terminal access control system. It controls "who" and "when" people have access with strict rules, and manages the history.
This ID terminal takes security up a notch. It won't give access if someone only shows a card to identify himself, but requires the corresponding PIN as a double check.
Surveillance Camera System
Fixed Network Camera
Fixed Network Camera
Network Video Recorder
SNC-EM630
SNC-EB630
NSR-500
This fixed dome camera's strong point is that it is not particularly intimidating. With its Full HD resolution, it can shoot wide angles and yet get a clear image, and if there aren't any obstacles in the way, one camera in each room will fulfill all your requirements.
For places that aren't used by students we choose this fixed camera, because a surveillance camera should clearly be installed there. With its Full HD resolution, persons can be identified reliably.
This camera has an outstanding cost performance while supporting full HD high resolution and can be equipped with a high-capacity hard drive of up to 12 TB. In addition, it uses a RAID configuration with redundancy, and supports a reliable operation.
Why We Chose This Introduction System
We chose this access control system because it has a function that lets you set an availability schedule (e.g. 8 a.m. to 7 p.m.) in addition to letting you select the staff members who are allowed to access the areas controlled by the system. Setting these limits and managing people such as patrolling security guards, the security becomes even more rigid.
Latest Information & Nature's Know-How
Our security systems keep improving We have the required operational efficiency
There are many educational institutions (mainly universities) that are improving their surveillance camera systems. Since some of those facilities are situated on large plots, in some cases the number of surveillance cameras exceeds 100 units. Although that is a huge amount of equipment, it can be operated efficiently by connecting it with the access control system and the motion sensors, etc., to use the alarm function, or by monitoring the surveillance camera footage and the map screens.