Product & Service Information
Fiber Security System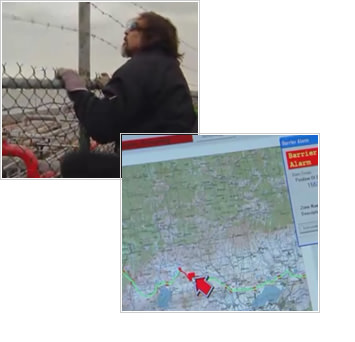 Perimeter Protection Solution
Fiber Security System
Detection, Surveillance & Mobilization
With long-distance sensing fiber optic cables and connected surveillance cameras you'll be able to respond immediately in case of a suspicious person intruding
Fiber optic cables laid on the perimeter fence detect intruders by the vibration of the fence caused by climbing it. The intrusion area is mapped by the surveillance center and the connected surveillance camera system will automatically image the intrusion area, allowing you to view the footage to check the area. Guards can be sent out based on this information, making the system a highly efficient and reliable operational support tool.
Benefits of fiber optic cables
These are the benefits of using fiber optic cables which play an important role for the detection sensors.
1 cable can cover a distance of up to 80 km without a single control device/ repeater
Since the cables do not require a repeater, there is no need for a power installation in the perimeter
Unlike metal cables, direct strikes and induced lightning have no effect
Laid fiber optic cables are easy to install by simply securing them to the fence using e.g. cable ties.
When extending the security area, the cables can be extended simply by fusing them together
When a cable disconnects, it can be repaired by fusing
They are rust-proof and have long durability
A sensing controller (control unit) with an overwhelming detection rate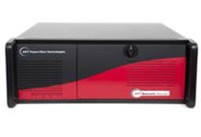 The sensing controller that controls the fiber optic cables collects vibration signals from the fence ignoring vibrations caused by wind or rain, vehicles passing the track or road, etc., and only generates an alarm if the vibrations are caused by a person climbing over the fence. This system's signal analyzing capabilities are outstanding, with a detection rate of over 95% and a false alarm rate below 3%, making it a highly reliable system.
Operation by the integrated management software CAMS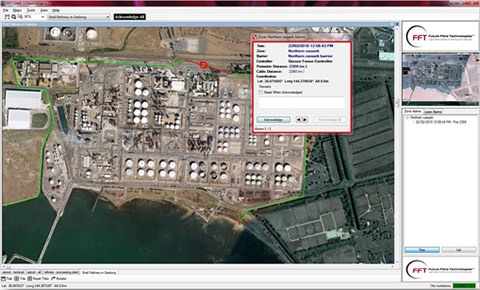 This fiber security system is operated by the integrated management software CAMS.
It has a user-friendly GUI even with multiple systems e.g. connected surveillance camera systems
Set multiple zones in the security area of the perimeter
View the map on the display to receive a visual notification of the intrusion area
The alarm history is saved
It automatically surveils the intruder area with the connected Pan/Tilt/Zoom cameras
It intimidates intruders with alarms such as rotating lights and sirens
Email notification to the address specified in case of an alarm
Notification to mobile device in case of an alarm
Three system line-up
We offer three fiber security systems that can be selected depending on the size of the area.
Secure Fence
One fiber optic cable can secure up to 40 km if laid straight, and up to 80 km if laid in a circle.
The consistency of the system is maintained even on large perimeters
Unlimited zone setting of the security areas
It specifies the intrusion area with an accuracy of ± 25 m
Since the cables do not require a repeater, there is no need for a power installation in the perimeter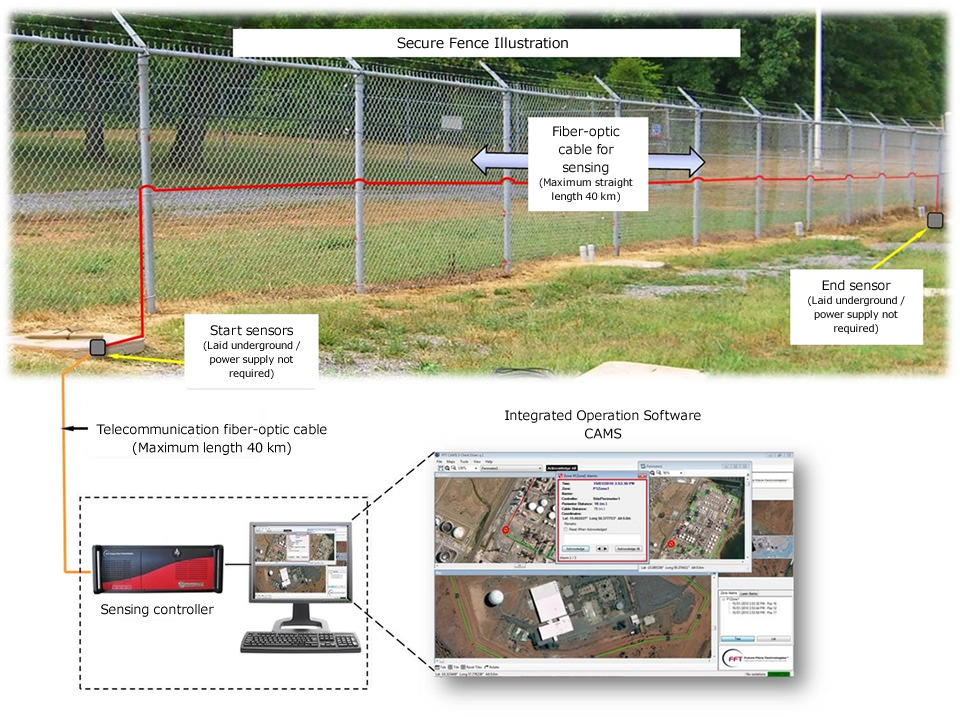 Secure a Point
One fiber optic cable can secure a perimeter site of 500 m
Up to 2 sets can be integrated into the system, making it possible to cover a total perimeter of 1 km
The sensing controller is available as fence mount type for outdoor use, and as rack mount type for indoor use
When using the rack mount type sensing controller, a power installation in the perimeter is not needed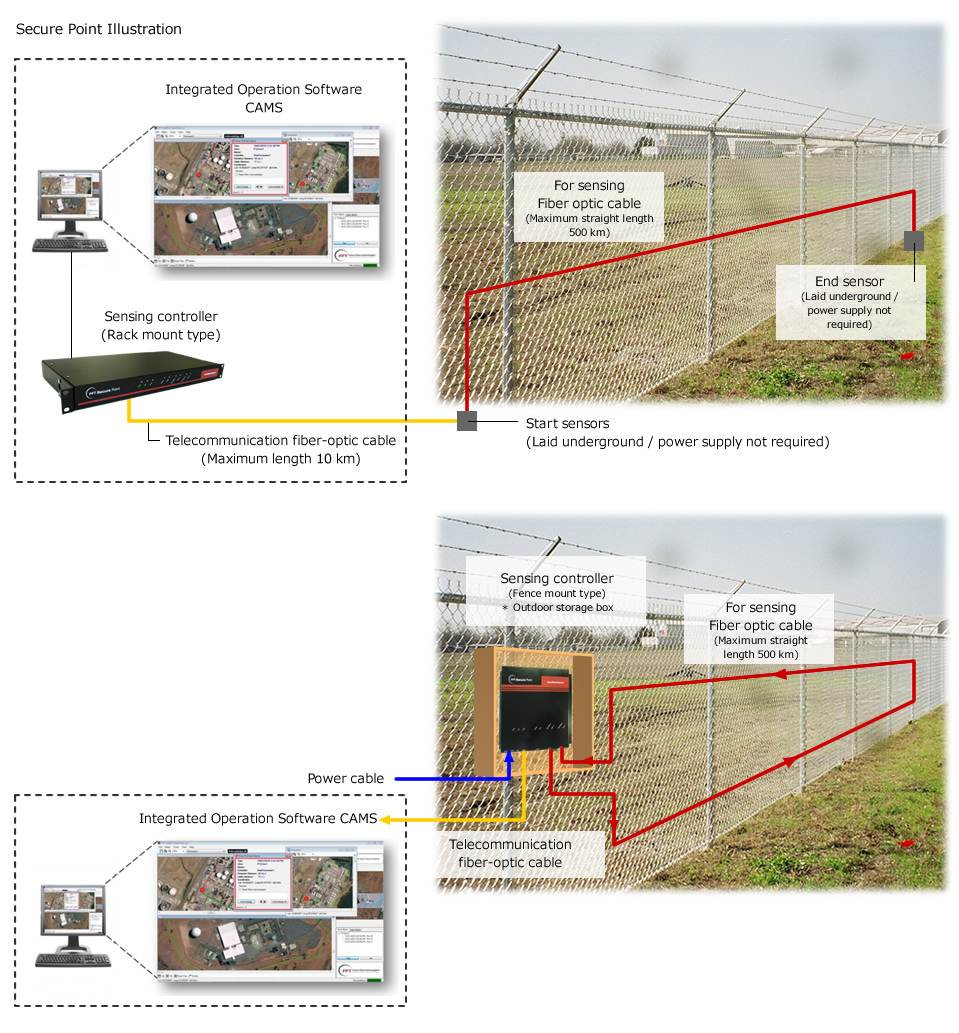 AURA
One fiber optic cable can secure a perimeter of 40km ( long type) or 16 km (short type)
Cables can be laid on the fence, but underground, allowing them to detect approaching vehicles and passing persons
The security area can be set to up to 2,666 zones
It specifies the intrusion area with an accuracy of ± 25 m
Since the cables do not require a repeater, there is no need for a power installation in the perimeter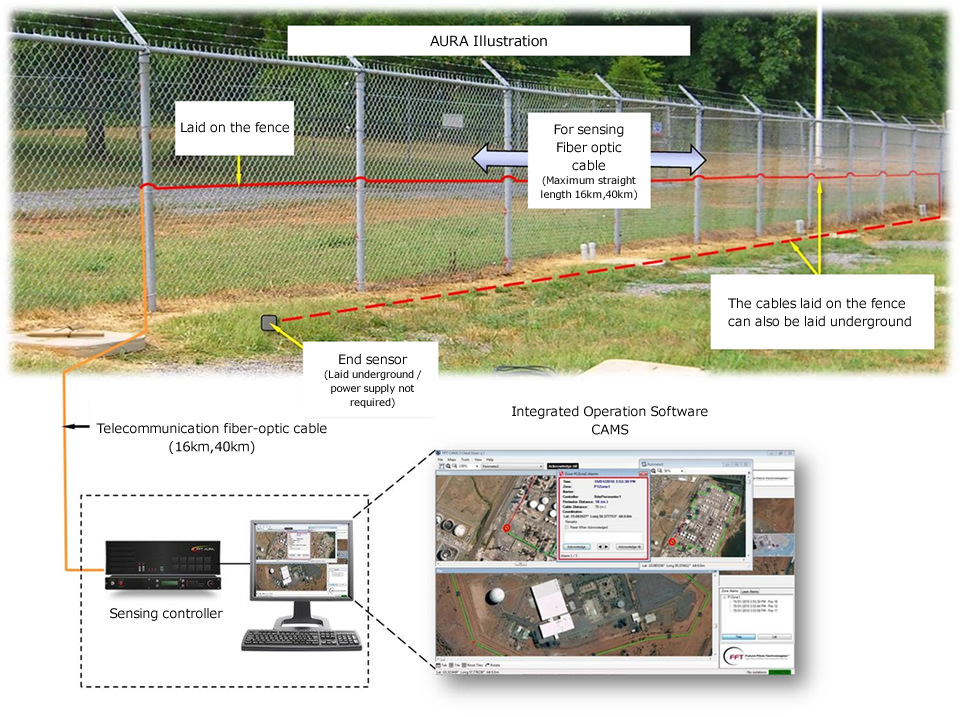 Specifications
System
Target
Zone settings
Optical fiber
Cable type
Sensing Department
Maximum optical fiber
Cable length
Communications Department
Maximum optical fiber
Cable length
Detection accuracy
Sensing operation temperature
Secure Fence
Medium to large
Fence (contact)
Unlimited
Single
Mode
40 km (linear)
or 80 km (annular)
40 km
Localization
(Within 25m)
Standard: -30°C to +70°C
Option: -55°C to +85°C
Secure Point
Small within 1km
Fence (contact)
2
500 m
10 km
Zone
AURA
Medium-size
Fence (contact) or ground (close distance)
2,666
16 km or 40 km
※ 2 models available
16 km
or 40 km
Localization
(within 10m)