Services
Emergency Call Service Magokoro Center
The Magokoro Center gives you the reassuring feeling
that someone cares.
Women and elderly persons that feel uncomfortable living alone
Households with children or elderly persons who are often left alone during the day
Contact the Magokoro Center with the push of a button.
We will help you not to feel uncomfortable living alone.
Plan Menu
Basic Plan3,800 yen monthly (tax excluded)

・Emergency call service
When we receive a emergency notification, all family members, friends, neighbors, etc. who you have registered with us beforehand will be contacted. In case of emergency we will respond immediately by calling an ambulance or the police.
・Personal telephone service
Once a week, a female staff member of the Magokoro Center will contact you.
Additional Plan6,800 yen monthly (tax excluded)

In addition to the basic plan, we will send security guards to confirm your safety in case of emergency.
※ Please contact our support area.
Customized Plan* The price varies depending on your specifications.

By installing fire alarms, our life rhythm function will be added. We will watch over your life. We can provide systems according to your needs.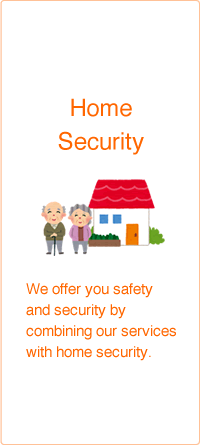 Service menu
Phone consultation

Whenever you feel uncomfortable or have worries
we are there to consult you.
Key custody
(only on request)

We keep a spare set of your keys
so that our security guards can enter your house in case of emergency.
Personal phone call
(only on request)

We will call you once a week
to see if you are alright.
Birthday card

We will send you a card on your birthday.