Introduction Examples
Example for a Apartment with our system
Introduction suggestions
Creating a comfortable living environment by installing a security system
Take a look at this example of an apartment where our system was installed.
The surveillance camera system we suggest is often used specifically to prevent crime, and has a great track record of solving crimes and pranks that occurred inside and outside the apartment. However, while apartment security tends to be extremely useful as evidence after an incident has occurred, it also plays an important role in contributing to a comfortable living environment, because it helps to prevent crimes and pranks as well as people to comply with the rules.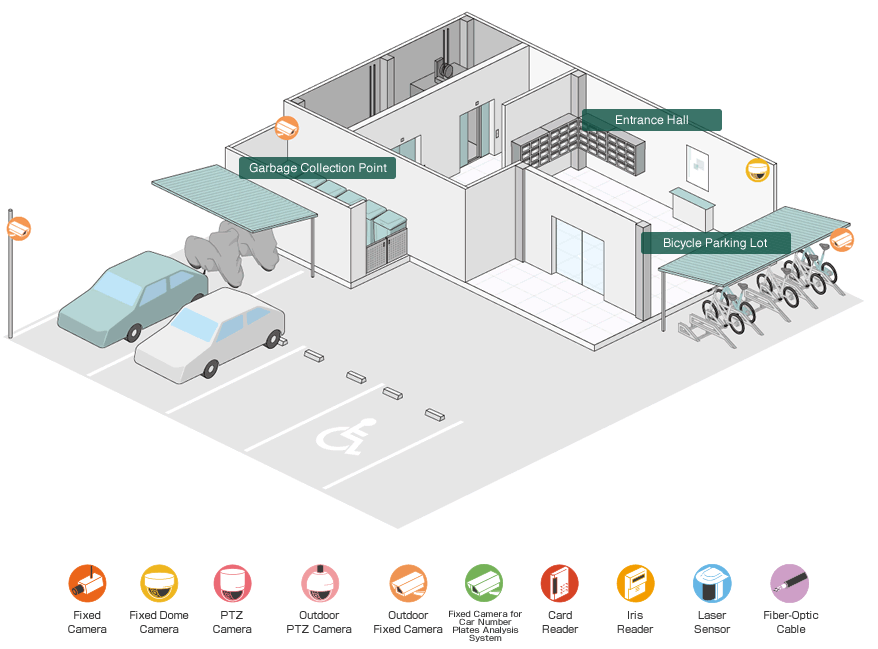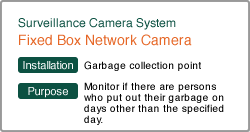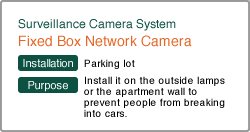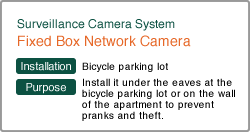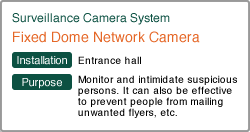 Why We Chose These Introduction Products and Systems
Surveillance Camera System
Fixed Network Camera
Fixed Network Camera
Hybrid Digital Video Recorder
NXC-D2002D
NXC-A2002D
NAX1000H
Because of its design we choose this fixed dome camera for indoor public spaces. It should be installed in the foyer, the entrance hall of the entire apartment. The camera will record in Full HD resolution.
This camera mainly gets installed in car parking lots, bicycle parking lots, garbage collection points, etc.. It can be installed outdoors and has a built-in IR-LED. In addition, it can capture images even in complete darkness of 0 lx. Its Full HD resolution is also ideal for wide angle shooting.
You can record in Full HD resolution, which makes it easy to distinct/identify persons. The camera is available with an internal HDD capacity of up to 8 TB, and can record the desired period in high definition.
Why We Chose This Introduction System
We recommend you this camera with built-in infrared LED that can be installed outdoors at bicycle parking lots or garbage collection points, and can also work at night with low light levels. For entrances, where it is difficult to identify persons due to the strong backlight, we suggest this camera equipped with a wide dynamic range function to adjust the difference between light and dark areas.
Latest Information & Nature's Know-How
Multi-point centralized monitoring with a remote surveillance system
When speaking of surveillance camera systems we tend to think of management organizations operating in condominiums, but the fact is that they are used more and more in apartments. In that case, it has become mainstream to install a remote surveillance system that can be accessed through a network enabling the owner to check the camera footage from his PC at home or at the management company. It also is possible to manage multiple apartments from one PC.